Novo spletno mesto
Created Date: 17 Feb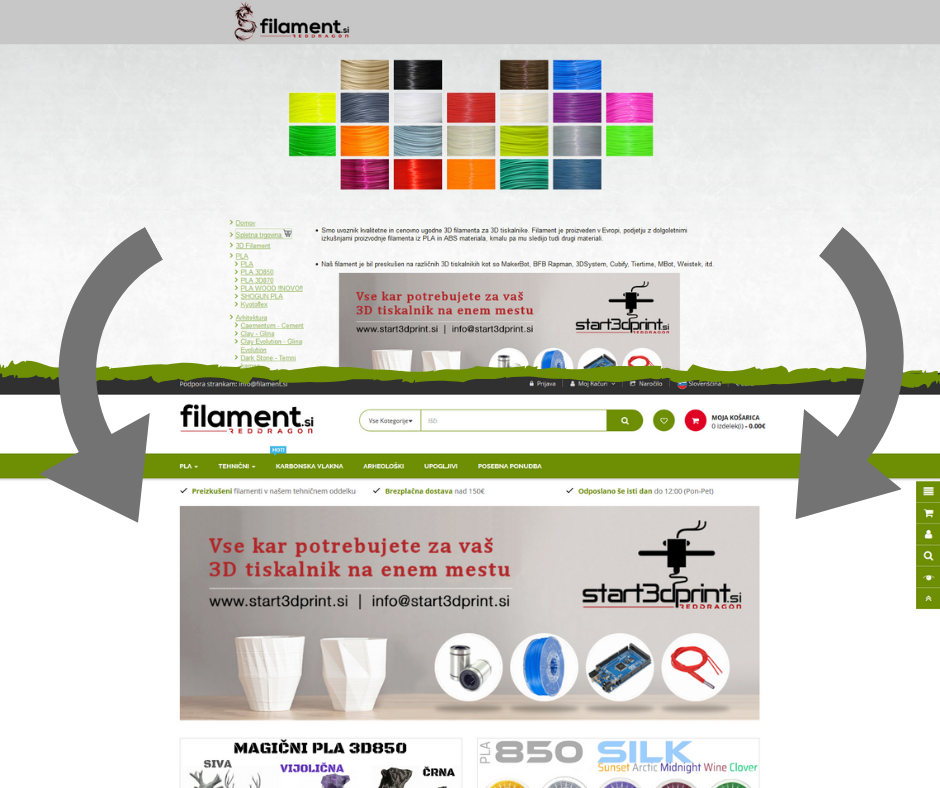 Napočil je trenutek katerega smo vsi že prav dolgo čakali, posodobitev spletnega mesta.

Spletno stran
www.filament.si
je bila posodobljena pred novim letom v času Black Friday 2019. Vaši odzivi so bili zelo pozitivni prav tako pa v tem času naredili in posodobili večino stvari katere vam niso bile všeč.
Prvo pomembno obvestilo je, da so se prenesli vsi vaši uporabniški računi s katerimi se sedaj prijavljate z mail naslovom in geslom, ampak geslo si morate ponovno narediti, saj le teh nismo prenašali zaradi drugačnega kodiranja gesel. Uporabite pozabljeno geslo in novo geslo bo poslano na vaš mail s katerim se prijavite potem pa v vašem računu le tega po želji spremenite.
Nove spremembe:
Večja prijaznost pri naročanju z mobilnega telefona
Novi načini plačila:
Plačevanje z bančnimi karticami - To storitev omogoča in zagotavlja varnost Stripe z +10leti izkušnjami na področju plačevanje s karticami. Nobene informacije kartice ne shranjujemo v naših bazah. Odločili smo se, da vam to storitev ponudimo brez dodatne provizije.
Plačilo po povzetju - Zaradi vedno novih podražitev pri dostavljavcev in zamudnosti pri pripravi pošiljke se ta storitev sedaj zaračunava +2,49€ razen če je naročilo osebno prevzeto.
PayPal - Provizija plačevanja s PayPalom se je znižala iz 10% na 4%
Načini pošiljanja ostajajo ne spremenjena so se pa le teh spremenile cene.
Z enim računom do naročanja na obeh spletnih mestih. Do sedaj posodobljeni spletni mesti www.filament.si in www.start3dprint.si se lahko prijavite v vaš račun z enim naslovom in tako ni potrebno za vsako spletno mesto ustvarjati novega računa.
Še večji GDPR nadzor vaših podatkov. V vašem računu boste našli GDPR nadzor, kjer boste prejeli vse podatke na vaš mail. Ti podatki bodo/so beleženi samo iz novega spletnega mesta.

Potrudili se bomo, da vam bomo nudili vedno več možnosti in hitro in enostavno uporabo.
Kaj se bo zgodilo s podatki iz starega spletnega mesta?

Do zaključitev zadnjega naročila bo spletno mesto na voljo samo lokalno za upravitelje. Kasneje se podatki prenesejo iz strežnika in shranijo v arhiv z ostalimi podatki in hranijo, dokler zakon napoveduje, da je potrebno hraniti podatke, po izteku grejo na trajno uničenje.